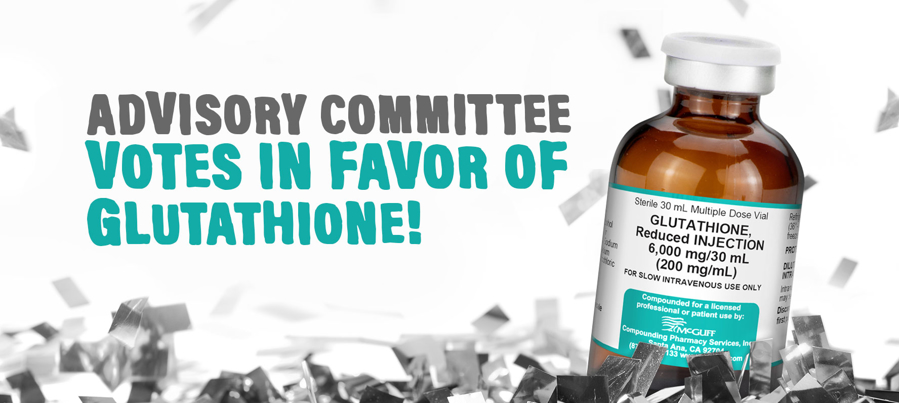 June 8, 2022, was a BIG day for integrative medicine and patients it serves! The Pharmacy Compounding Advisory Committee (PCAC), put in place by the Food and Drug Administration (FDA), voted in favor to keep Glutathione on the approved 503A bulk drug substance list for pharmacy compounding.
--
Meaning: Pharmacies can Continue to Compound it!
 --
McGuff was the only Compounding Pharmacy to nominate Glutathione and be selected by PCAC to present reasons why Glutathione should be kept on the bulk drug substance list.
 --
We were one of seven total nominators for Glutathione:
McGuff Compounding Pharmacy Services, Inc.
Professional Compounding Centers of America (PCCA)
National Community Pharmacists Association (NCPA)
The American Association of Naturopathic Physicians (AANP)
Alliance for Natural Health USA (ANH-USA)
Integrative Medicine Consortium
The American College for Advancement in Medicine
 --
McGuff collaborated with our fellow nominators to develop a multifaceted approach for reasons to keep Glutathione on the bulk drug substance list. This was a lengthy and cumbersome process but was well worth the effort. The information was presented to PCAC, and, as they say, the rest is history!
While the approval of Glutathione by PCAC is a big win, we are not at the finish line just yet. FDA still needs to accept the ruling of PCAC, but we are confident that they will.
 --
'Knock on Wood'
 --
It's because of supportive customers like you, who have used and trusted our business over all these years, that we are able to continue to fight for patient access to drugs like Glutathione. As patient/doctor advocates, McGuff will continue to fight for our customers.
 --
Glutathione for Inhalation in 30 mL 

Compounded with Raw Material from Registered FDA Drug Establishment

Meets McGuff Quality Guarantee

Glutathione for Injection in 5mL and 30 mL

Compounded with Raw Material from Registered FDA Drug Establishment

Meets McGuff Quality Guarantee
--
_______________________________________________________________
 --
For all other products from McGuff Compounding Pharmacy Services please visit mcguffpharmacy.com for most up to date product listing and prices