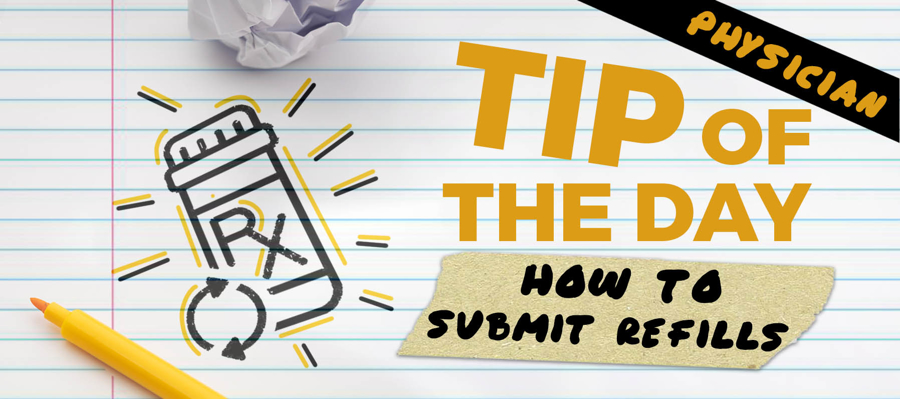 What is a Refill?
A Refill is a reorder of a prescribed drug which has been authorized on the original prescription. The original prescription will specify how many refills were approved. They are much easier to place and faster to ship as the prescription has already been submitted, reviewed, and approved!
Benefits of Refills
Refills are much easier to place and faster to ship
You are only charged for what ships on a prescription refill
Refills are typically good for one year from the original prescription date for non-controlled substances
How Can Physicians Request Refill?
Search for active patient refills by patient or drug here: Refills - Account | McGuff Compounding Pharmacy
Our pharmacy will only refill your prescription upon request.
Refilling a patient prescription to ship to your office is fast and easy through our website by going to the Refills tab. Search your available refills by patient name or drugs.  Once you find the patient, select the medication(s) you want to refill, enter the quantity, and follow the prompt to review payment and shipping information. It can be done in as little as 12 seconds!
Step by Step Physician Refill Process
Click the Refills tab on your account
Search for the patient's name and click the Refill button
Select the medication and enter the quantity
Confirm payment and shipping address
Submit
How Can Physicians Add Refils When Creating a New Prescription?
While creating a new prescription for your patient Prescriptions | McGuff Compounding Pharmacy (mcguffpharmacy.com), you can specify the number of refills to your order during the process. 
Please note, refills do NOT automatically ship and need to be requested by you if order is shipping to the clinic or by the patient if order is shipping to patient address respectively.
You can contact us at pharmacyanswers@mcguff.com if you have any questions about refilling your medication or call us at 877-444-1133 if you would like to place an order over the phone. Some medications may take longer than others to compound. Plan ahead so you do not run out of medication.